5-Day Family Getaway in Wayanad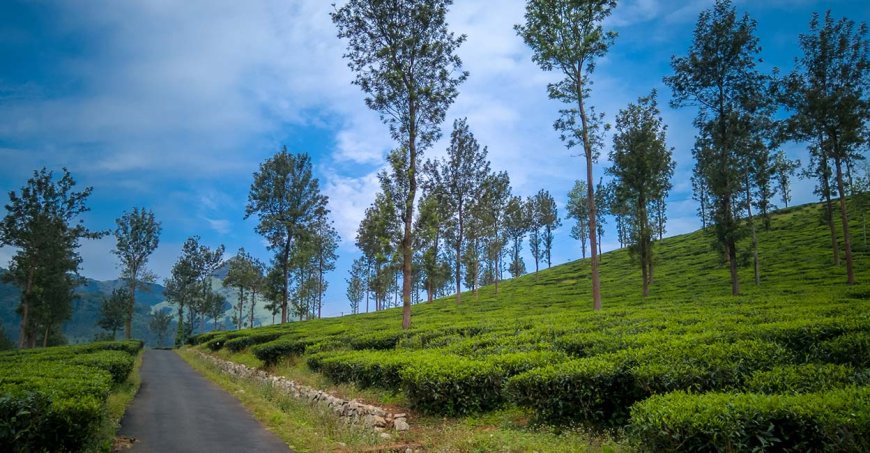 A pristine paradise nestled in the Western Ghats of Kerala, India. If you're planning a family trip and seeking a destination that offers a harmonious blend of natural beauty, cultural richness, and enriching experiences, then Wayanad is the perfect choice. This enchanting region promises to take your family on a journey of discovery, where lush landscapes, diverse wildlife, and local traditions come together to create an unforgettable family adventure.
Wayanad, known for its mist-covered mountains, dense forests, and vibrant plantations, welcomes families with open arms. Here, you'll find a haven where the sounds of nature replace the noise of city life, and the pace of life allows you to reconnect with your loved ones. From lush tea gardens to sparkling waterfalls, from wildlife sanctuaries to ancient caves, Wayanad presents a canvas for your family to explore, connect, and create lifelong memories.
As a family, you'll have the opportunity to embark on exciting jungle safaris, visit tribal villages to understand local traditions, and take leisurely walks through aromatic spice plantations. You can engage in thrilling outdoor activities, visit historical sites, and delight in the rich culinary offerings that Kerala is renowned for.
Wayanad offers the chance to step back in time, experience the beauty of the natural world, and witness the simplicity of local lifestyles. Whether it's enjoying boat rides on serene lakes, witnessing breathtaking sunsets, or simply spending quality time together, Wayanad invites your family to bond, learn, and immerse yourselves in a world of wonder.
So pack your bags, bring your loved ones, and prepare for a family journey that promises to be as enriching as it is memorable. In Wayanad, nature's beauty and cultural heritage await, offering an experience that will leave your hearts full and your spirits refreshed.
Day 1: Arrival and Nature Exploration
Arrive at Calicut International Airport or Kozhikode Railway Station.
Drive to Wayanad (approximately 3-4 hours).
Check in to your family-friendly accommodation.
Spend the evening exploring nearby areas and getting acquainted with the natural beauty.
Day 2: Edakkal Caves and Historical Sites
Visit Edakkal Caves, known for its prehistoric rock carvings.
Explore the Wayanad Heritage Museum to learn about local history and culture.
Return to your accommodation for relaxation.
Day 3: Wildlife Safari and Plantation Visit
Embark on a wildlife safari in Wayanad Wildlife Sanctuary.
Visit a tea or coffee plantation to learn about the plantation process.
Enjoy a leisurely evening at your accommodation.
Day 4: Soochipara Waterfalls and Pookode Lake
Explore Soochipara Waterfalls and enjoy a refreshing dip.
Visit Pookode Lake for boating and picnicking.
Spend quality family time by the serene lake.
Day 5: Muthanga Wildlife Sanctuary and Departure
Visit Muthanga Wildlife Sanctuary for another wildlife encounter.
Explore local markets for souvenirs and handicrafts.
Drive back to Calicut International Airport or Kozhikode Railway Station for departure.
Exciting Family Activities in Wayanad: A Guide to Fun Things to Do with Price Options 
Absolutely, here are some family-friendly activities that you and your kids can enjoy in Wayanad, along with estimated prices in Indian Rupees (INR):
Edakkal Caves Exploration:

Visit the Edakkal Caves to see ancient rock carvings and enjoy a unique adventure.
Price: Entry fee of approximately ₹40 for adults and ₹20 for kids.

Wayanad Wildlife Sanctuary:

Embark on a wildlife safari to spot elephants, deer, and other wildlife.
Price: Safari costs around ₹500 to ₹600 per vehicle (seats up to 7 people).

Visit to Muthanga Wildlife Sanctuary:

Enjoy another wildlife encounter at Muthanga Wildlife Sanctuary.
Price: Safari costs around ₹600 to ₹700 per vehicle.

Soochipara Waterfalls:

Explore Soochipara Waterfalls and enjoy a refreshing dip.
Price: Entry fee of approximately ₹30 for adults and ₹15 for kids.

Pookode Lake Boating:

Enjoy pedal boating or row boating at Pookode Lake.
Price: Boat rental costs around ₹50 to ₹100 per person.

Wayanad Heritage Museum:

Visit the museum to learn about local history and culture.
Price: Entry fee of around ₹10 to ₹20.

Spice Plantation Tours:

Explore spice plantations and learn about different spices.
Price: Tours cost approximately ₹100 to ₹200 per person.

Banasura Sagar Dam:

Visit the dam and enjoy panoramic views of the reservoir.
Price: No entry fee.

Tribal Village Visit:

Visit a tribal village to learn about their culture and way of life.
Price: Donations or small gifts are appreciated.

Nature Walks and Picnics:

Enjoy leisurely walks through the lush landscapes and have picnics.
Price: No additional cost.
Culinary Delights: Unique and Special Eats to Try in Wayanad
During your visit to Wayanad, you'll have the opportunity to savor some unique and special dishes that showcase the rich flavors of Kerala cuisine. Here are a few culinary delights you should definitely try:
Malabar Parotta with Beef Fry: Indulge in the famous Malabar parotta, a layered flatbread, served with spicy and flavorful beef fry.

Appam with Stew: Enjoy soft and fluffy appams, a rice pancake, served with a delicious coconut milk-based stew that can contain vegetables or meat.

Puttu with Kadala Curry: Try puttu, a cylindrical steamed rice cake, served with kadala curry, a flavorful black chickpea curry.

Karimeen Pollichathu: Delight in Karimeen (pearl spot fish) marinated with spices, wrapped in banana leaves, and grilled to perfection.

Malabar Biryani: Savor aromatic Malabar biryani, a flavorful rice dish with marinated meat or vegetables, prepared with a blend of spices.

Nadan Kozhi Varuthathu: Enjoy crispy and spicy Kerala-style fried chicken, known for its rich and authentic flavors.

Kerala Sadya: Experience a traditional Kerala feast called Sadya, comprising a variety of vegetarian dishes served on a banana leaf.

Chemmeen Curry: Relish prawn curry cooked in coconut milk and flavored with aromatic spices, a popular seafood dish.

Unniyappam: Satisfy your sweet tooth with unniyappam, a small fried rice cake made from jaggery, rice, and bananas.

Tapioca with Fish Curry: Try tapioca, a starchy root vegetable, served with spicy and tangy fish curry.

Payasam: End your meal with Kerala's beloved dessert, payasam, a sweet and creamy pudding made with rice, lentils, or vermicelli.
Make sure to explore local restaurants, eateries, and even homestays to enjoy the authentic flavors of Wayanad's cuisine. The diverse range of dishes will introduce you to the culinary heritage and cultural richness of the region.
What's Your Reaction?