5-Day Romantic Getaway in Tokyo for Couples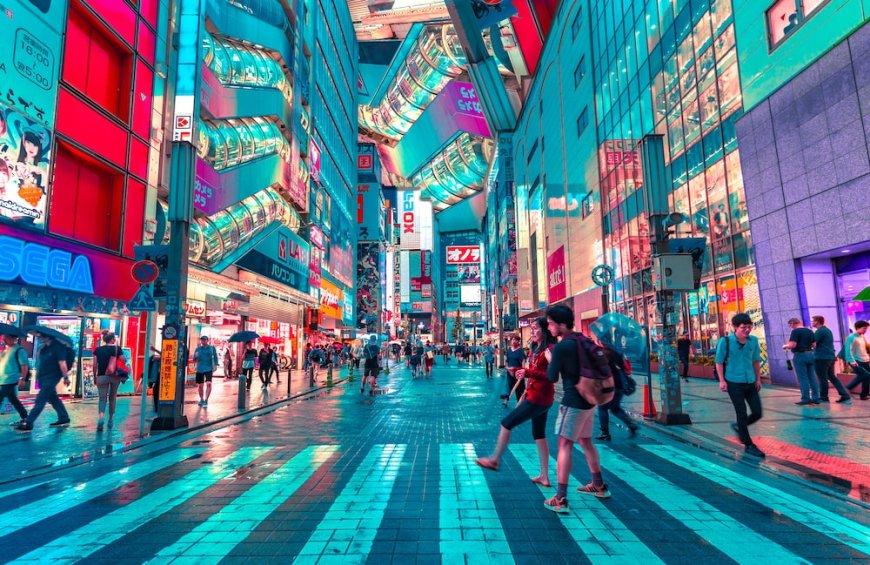 Welcome to Tokyo, a mesmerizing blend of modern innovation and timeless tradition, where couples can embark on a romantic journey that spans from bustling cityscapes to serene gardens. As you step into this vibrant metropolis, you'll be immersed in a world where ancient temples coexist with futuristic skyscrapers, and the beauty of traditional rituals intertwines with cutting-edge technology.
Tokyo offers an enchanting backdrop for couples seeking to create unforgettable memories. From strolling hand in hand through tranquil cherry blossom gardens to indulging in world-class dining experiences, Tokyo promises to be an extraordinary destination for your couple's getaway.
Discover the harmony of contrasts as you explore the historic neighborhoods of Asakusa and Ueno, where ancient temples and markets evoke a sense of old-world charm. Then, lose yourselves in the neon-lit streets of Shinjuku and Shibuya, where modernity and urban energy come to life in a dazzling display.
For the culturally inclined, Tokyo presents a treasure trove of museums, galleries, and theaters that showcase the city's artistic diversity. Immerse yourselves in the artistry of traditional tea ceremonies, admire intricate kimono designs, and witness the precision of origami.
Savor the culinary delights that Tokyo offers, from the humble ramen stalls to the Michelin-starred restaurants. Unleash your adventurous spirit by exploring Tsukiji Fish Market or sampling street food at bustling food markets. As the day winds down, relish in the tranquility of Tokyo's meticulously manicured gardens, where cherry blossoms in spring and vibrant foliage in autumn provide a romantic backdrop.
Tokyo is a city of endless possibilities, where couples can create their own unique story. Whether you're taking in the panoramic views from Tokyo Skytree, strolling along the Sumida River hand in hand, or finding solace in the historic temples, your journey in Tokyo will be an unforgettable chapter in your love story.
Day 1: Arrival and Shibuya Excursion
Arrive at Narita or Haneda International Airport.
Check in to your chosen hotel in Shibuya, a vibrant district.
Explore Shibuya Crossing, one of the world's busiest pedestrian intersections.
Enjoy dinner at a local izakaya (traditional Japanese pub).
Day 2: Cultural Exploration in Asakusa and Ueno
Visit Senso-ji Temple in Asakusa, Tokyo's oldest temple.
Stroll through Nakamise Street for traditional souvenirs.
Explore Ueno Park and visit Tokyo National Museum.
Indulge in a romantic dinner at a local restaurant.
Day 3: Modern Tokyo and Odaiba Island
Explore the futuristic Odaiba Island, featuring attractions like TeamLab Borderless and the Odaiba Seaside Park.
Take a leisurely stroll along the Rainbow Bridge.
Enjoy shopping at Aqua City Odaiba and DiverCity Tokyo Plaza.
Dine at a themed restaurant or choose from various international cuisines.
Day 4: Imperial Palace and Ginza Shopping
Visit the Imperial Palace East Gardens and enjoy a peaceful stroll.
Discover the upscale shopping district of Ginza.
Explore Tsukiji Outer Market and enjoy a fresh seafood lunch.
Spend a romantic evening at a rooftop bar overlooking the city.
Day 5: Meiji Shrine and Roppongi Hills
Begin your day with a visit to Meiji Shrine, set in a tranquil forest.
Explore Takeshita Street in Harajuku for quirky shopping.
Head to Roppongi Hills for panoramic views from Tokyo City View.
Conclude your trip with a farewell dinner at a traditional kaiseki restaurant.
Exciting Couple Activities in Tokyo: A Guide to Fun Things to Do with Price Options 
Certainly, here are some fun activities that adult couples can enjoy in Tokyo, along with estimated prices in Indian Rupees (INR):
Visit Senso-ji Temple in Asakusa:

Explore the historic Senso-ji Temple and Nakamise Street.
Price: No entry fee.

Experience a Tea Ceremony:

Participate in a traditional Japanese tea ceremony.
Price: Approximately ₹800 to ₹1,500 per person.

Explore Odaiba Island:

Enjoy attractions like TeamLab Borderless and Odaiba Seaside Park.
Price: Attractions' entry fees vary (approximately ₹1,000 to ₹2,500 per person).

Shopping in Ginza:

Explore the upscale shopping district of Ginza.
Price: Varies based on shopping preferences.

Visit Tsukiji Outer Market:

Experience the bustling seafood market and enjoy a fresh seafood meal.
Price: Cost of meals varies (approximately ₹1,500 to ₹2,500 per person).

Tokyo Skytree Observation Deck:

Enjoy panoramic views of Tokyo from the Tokyo Skytree.
Price: Approximately ₹1,200 to ₹2,000 per person.

Meiji Shrine and Yoyogi Park:

Visit the serene Meiji Shrine and take a stroll in Yoyogi Park.
Price: No entry fee.

Explore Akihabara:

Discover the electronics and anime hub of Akihabara.
Price: Varies based on shopping and entertainment preferences.

Visit Roppongi Hills:

Enjoy panoramic views from Tokyo City View.
Price: Approximately ₹1,200 to ₹1,800 per person.

Dine at Themed Restaurants:

Experience unique themed dining options in Tokyo.
Price: Costs vary based on the chosen restaurant.
Culinary Delights: Unique and Special Eats to Try in Tokyo
Tokyo is a culinary paradise offering a wide array of unique and special dishes that you should definitely try. Here are some delightful treats to savor during your visit:
Sushi: Indulge in authentic sushi at local sushi bars, where you can taste incredibly fresh fish and seafood.

Ramen: Sample Tokyo's diverse ramen offerings, ranging from rich tonkotsu (pork bone) broth to delicate shoyu (soy sauce) variations.

Sashimi: Experience the art of sashimi, where raw fish and seafood are expertly sliced and presented.

Tempura: Enjoy crispy tempura-fried vegetables, seafood, and more, served with a dipping sauce.

Yakitori: Try skewered and grilled chicken pieces seasoned with a variety of sauces and spices.

Okonomiyaki: Savor this savory pancake made with ingredients like cabbage, meat, seafood, and topped with sauces.

Takoyaki: Enjoy octopus-filled batter balls, topped with bonito flakes, mayonnaise, and takoyaki sauce.

Unagi: Taste grilled eel served on rice, a traditional dish often enjoyed during summer.

Kaiseki: Indulge in a multi-course traditional Japanese meal, where each dish is artfully presented.

Matcha Delights: Experience matcha-flavored treats like matcha latte, matcha ice cream, and matcha-flavored sweets.

Taiyaki: Try fish-shaped cakes filled with various fillings like custard, chocolate, or red bean paste.

Gyoza: Enjoy pan-fried dumplings filled with a mix of pork and vegetables.

Street Food: Explore street food stalls offering a variety of quick and delicious bites like yakisoba (fried noodles) and takoyaki.

Shabu-Shabu and Sukiyaki: Experience hot pot dishes where you cook thinly sliced meat and vegetables in a flavorful broth.

Melon Pan: Sample this sweet bread, often found in bakeries and street food stalls.
Tokyo's food scene is incredibly diverse and vibrant, offering something for every palate. Don't hesitate to explore local eateries, street food stalls, and even high-end restaurants to indulge in these unique and delicious culinary delights.
What's Your Reaction?