5-Day Romantic Getaway Itinerary to Maldives for Couples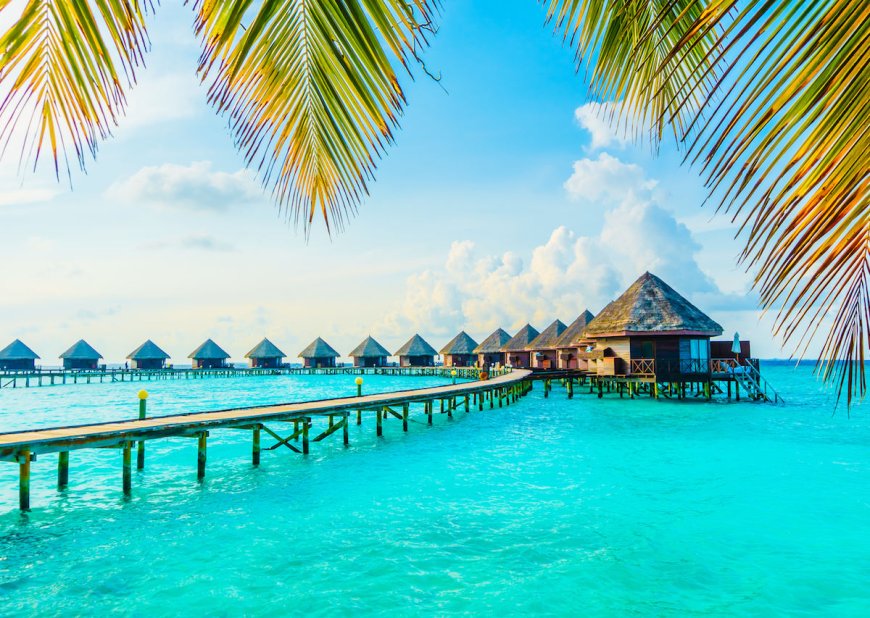 The Maldives is an idyllic paradise tailor-made for couples seeking a romantic getaway. Comprising 26 coral atolls and over 1,000 coral islands, this tropical haven offers a perfect blend of natural beauty, luxury, and seclusion. From its powdery white-sand beaches to its crystal-clear lagoons, the Maldives beckons couples to indulge in unforgettable moments and create lasting memories.
Imagine waking up in overwater bungalows or beachfront villas, where every morning brings the symphony of waves and the breathtaking sight of the sun rising over the horizon. The Maldives offers a range of accommodations designed to provide privacy and intimacy, ensuring couples have their own slice of paradise. Whether you're seeking a tranquil escape or embarking on adventurous water sports together, the Maldives caters to diverse interests and preferences.
Snorkeling and diving in the vibrant coral reefs offer an opportunity to explore an underwater world teeming with colorful marine life, creating shared experiences that will be cherished forever. As the day winds down, couples can enjoy romantic dinners on secluded beaches, beneath the starlit sky, or even underwater in world-class restaurants.
The Maldivian culture and hospitality add to the allure of the destination, allowing couples to immerse themselves in local traditions, cuisine, and art. Spa treatments and wellness offerings inspired by ancient healing practices provide relaxation and rejuvenation, ideal for couples seeking to unwind together.
The Maldives presents an irresistible setting for couples to escape the ordinary and immerse themselves in a world of luxury, natural beauty, and intimacy. With its picture-perfect landscapes, opulent accommodations, and a variety of activities designed for two, the Maldives promises a romantic experience that will forever be etched in your hearts.
Day 1: Arrival and Relaxation
Morning:
Arrive at Velana International Airport (MLE) in Malé, the capital of Maldives.
Meet your resort's representative and transfer to your chosen luxury resort by speedboat or seaplane.
Afternoon:
Check-in to your overwater or beachfront villa.
Enjoy a welcome lunch at the resort's restaurant, featuring fresh seafood and local Maldivian dishes.
Relax on the beach, take a dip in the crystal-clear turquoise waters, or indulge in a couple's spa treatment.
Evening:
Savor a romantic beachside dinner under the stars with a personalized menu and breathtaking ocean views.
Day 2: Water Adventures:
Morning:
Enjoy a leisurely breakfast at your villa's private deck or the resort's restaurant.
Embark on a snorkeling adventure to explore the vibrant coral reefs and marine life that the Maldives is famous for.
Afternoon:
Return to the resort for a sumptuous lunch.
Try exciting water activities such as kayaking, paddleboarding, or jet-skiing.
Evening:
Relax and unwind with a sunset cruise. Enjoy champagne and canapés while watching the sun dip below the horizon.
Day 3: Island Excursion:
Morning:
Breakfast with ocean views.
Take a day trip to a nearby local island to experience Maldivian culture and interact with the friendly locals.
Afternoon:
Enjoy a traditional Maldivian lunch on the local island.
Explore the island's markets, shops, and perhaps buy some local crafts or souvenirs.
Evening:
Return to your resort for a candlelit dinner by the beach or at an overwater restaurant.
Day 4: Relaxation and Romance:
Morning:
Start the day with a leisurely breakfast in bed.
Spend a relaxing morning at the resort's spa, indulging in rejuvenating treatments or a couples' massage.
Afternoon:
Have a light lunch at one of the resort's restaurants.
Lounge by the infinity pool or on your villa's private deck, taking in the breathtaking ocean views.
Evening:
Enjoy a private movie night on the beach, complete with comfortable seating, popcorn, and your favorite films.
Day 5: Farewell to Maldives:
Morning:
Enjoy a final breakfast at the resort.
Take a last stroll along the beach, capturing memories of the stunning surroundings.
Late Morning:
Check out of the resort and bid farewell to the staff who made your stay memorable.
Depending on your flight schedule, you might have some time to explore Malé. Visit the historic sites, local markets, and indulge in a farewell lunch.
Afternoon:
Depart from Velana International Airport with unforgettable memories of your romantic getaway to the Maldives.
Exciting Adult Couple Activities in Maldives: A Guide to Fun Things to Do with Price Options   
1. Snorkeling and Diving:
Price: Starting from around INR 4,000 per person for a guided snorkeling tour.
For diving, prices vary based on certification level and dive sites, starting from around INR 6,000 for a single dive.
2. Water Sports:
Jet Skiing: Starting from around INR 3,000 for 15 minutes.
Parasailing: Starting from around INR 4,500 per person for a short flight.
3. Couples' Spa and Wellness Packages:
Price: Prices vary widely based on the chosen treatments and resort, but an average couples' spa package could start from around INR 15,000 for a 60-minute massage.
4. Sunset Cruise:
Price: Starting from around INR 8,000 per couple for a shared sunset cruise with beverages and snacks.
5. Private Beach Dinners:
Price: Starting from around INR 10,000 for a private beach dinner, depending on the resort and menu.
6. Local Island Excursions:
Price: Starting from around INR 5,000 per person for a guided tour to a nearby local island.
7. Seaplane Tours:
Price: Starting from around INR 15,000 per person for a scenic seaplane flight, offering breathtaking aerial views of the atolls.
8. Submarine Tours:
Price: Starting from around INR 12,000 per person for a submarine tour, allowing you to explore the underwater world from the comfort of a submersible.
9. Fishing Trips:
Price: Starting from around INR 3,000 for a fishing trip, including equipment and a chance to catch your dinner.
10. Romantic Private Cinema:
Price: Starting from around INR 8,000 for a private cinema setup on the beach, including popcorn and your choice of movies.
Culinary Delights: Unique and Special Eats to Try in Maldives   

 
Maldivian Fish Curry (Rihaakuru):
This is a rich and flavorful fish curry made with tuna, coconut milk, and a blend of spices. It's often served with rice and is a staple in Maldivian cuisine.
Hedhikaa:
These are traditional Maldivian snacks, often enjoyed with afternoon tea. Varieties include Bajiya (stuffed pastries), Keemia (spiced fish rolls), and Masroshi (stuffed flatbread).
Grilled Seafood:
Being surrounded by the ocean, the Maldives is known for its fresh seafood. Try grilled lobster, prawns, and a variety of fish dishes for a delightful dining experience.
Garudhiya:
This is a clear fish broth typically served with rice. It's a simple and comforting dish that showcases the essence of Maldivian seafood.
Dhivehi Salad:
A refreshing side dish made with finely chopped local vegetables, grated coconut, and a squeeze of lime. It's a light and healthy option.
Sai:
A traditional sweet dish made from rice and coconut. It's often flavored with cardamom and served as a dessert.
Mas Huni:
A breakfast dish made from shredded smoked tuna, grated coconut, and onions, usually served with chapati or roshi (unleavened bread).
Try a Local Food Market:
Visit a local food market to experience the vibrant colors, aromas, and varieties of fresh produce, spices, and seafood. It's a great way to immerse yourself in the local food culture.
Enjoy a Seafood Feast on the Beach:
Many resorts offer the option to have a seafood barbecue or feast directly on the beach, where you can indulge in a variety of grilled seafood under the stars.
Cooking Classes:
Some resorts offer cooking classes where you can learn how to prepare traditional Maldivian dishes from experienced local chefs.
Tropical Fruits:
Don't miss out on trying the wide array of tropical fruits available in the Maldives, such as mangoes, papayas, coconuts, and bananas.
Freshly Caught Tuna:
The Maldives is famous for its tuna. Try dishes like tuna sashimi or tuna tartare to experience the flavor of the ocean's bounty.
Local Beverages:
Enjoy traditional Maldivian beverages like Raa (fermented palm sap) and Ginger Tea, which is a popular local infusion.
What's Your Reaction?