5-Day Family Adventure in Singapore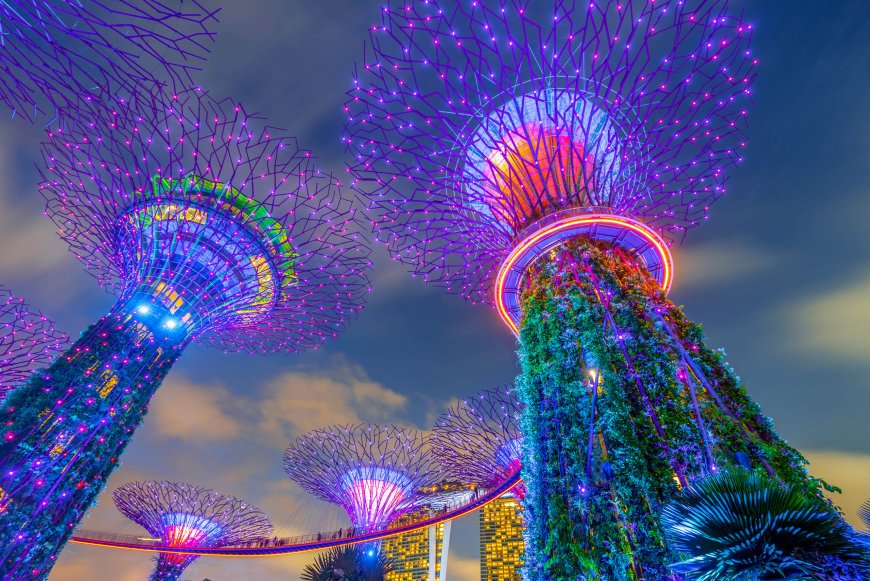 A vibrant and family-friendly destination that offers a perfect blend of modernity, culture, and entertainment for families of all sizes. If you're planning a family trip and seeking a diverse range of experiences that cater to every member, Singapore is your gateway to excitement, adventure, and cultural exploration.
Nestled in the heart of Southeast Asia, Singapore stands as a dynamic city-state where futuristic skyscrapers coexist harmoniously with lush gardens, cultural enclaves, and a plethora of family-friendly attractions. From thrilling theme parks and interactive museums to serene botanical gardens and iconic landmarks, Singapore promises a journey that caters to both young and old.
Marvel at the iconic Marina Bay Sands, explore the enchanting Gardens by the Bay, and dive into the world of wildlife at the Singapore Zoo and Night Safari. Immerse yourselves in the rich cultural tapestry of Little India, Chinatown, and Kampong Glam, where traditions blend seamlessly with modernity.
For families, Singapore's attractions are as diverse as its population. Whether you're soaring through the sky on a cable car ride, splashing in the wave pools of Sentosa's water parks, or indulging in delectable street food at hawker centers, every day promises an adventure that caters to every interest.
Singapore is a place where learning becomes fun at interactive science centers and history museums, where creativity flourishes at art galleries and play areas, and where laughter and memories are shared on thrilling rides and tranquil walks through botanical wonders.
So pack your bags, bring your loved ones, and embark on a family journey that promises to be a delightful blend of discovery, excitement, and shared moments. Whether you're making your way through bustling markets or admiring the city's iconic skyline, Singapore ensures that every family member finds a piece of paradise in this urban oasis.
Day 1: Arrival and Marina Bay Exploration
Arrive in Singapore at Changi Airport.
Check in to your family-friendly accommodation.
Explore Marina Bay Sands area: visit the iconic Marina Bay Sands SkyPark for panoramic views and enjoy a leisurely stroll along the waterfront promenade.
Day 2: Sentosa Island Adventure
Head to Sentosa Island for a day of family fun.
Visit Universal Studios Singapore for thrilling rides and entertainment.
Relax at the beautiful Palawan Beach and enjoy beach activities.
Explore S.E.A. Aquarium to witness marine life up close.
Day 3: Cultural Exploration and Gardens by the Bay
Begin with a visit to Little India, Chinatown, and Kampong Glam for cultural immersion.
Explore the vibrant streets, temples, and markets.
In the evening, visit Gardens by the Bay to see the stunning Supertree Grove and the Cloud Forest Dome.
Day 4: Wildlife Encounters
Spend the day at Singapore Zoo and experience the Rainforest Kidzworld for interactive animal experiences.
In the evening, visit Night Safari for a unique wildlife encounter.
Day 5: Shopping and Departure
Explore Orchard Road, Singapore's famous shopping district, for family-friendly shopping.
Visit KidZania Singapore for an interactive learning and entertainment experience.
Depending on your flight schedule, enjoy some last-minute sightseeing or shopping before heading to Changi Airport for departure.
Exciting Family Activities in Singapore: A Guide to Fun Things to Do with Price Options 
Certainly, here are some family-friendly activities that you can enjoy with kids in Singapore, along with estimated prices in Indian Rupees (INR):
Universal Studios Singapore:

Experience thrilling rides and entertainment at Universal Studios.
Price: Approximately ₹3,000 to ₹4,500 per person for a one-day pass.

S.E.A. Aquarium:

Explore the underwater world at S.E.A. Aquarium on Sentosa Island.
Price: Approximately ₹1,000 to ₹1,500 per person.

Singapore Zoo:

Enjoy a day at Singapore Zoo, home to various animal species.
Price: Approximately ₹1,500 to ₹2,000 per adult, ₹1,000 to ₹1,500 per child.

Night Safari:

Experience the Night Safari and witness nocturnal animals.
Price: Approximately ₹1,500 to ₹2,000 per adult, ₹1,000 to ₹1,500 per child.

Gardens by the Bay:

Visit the Flower Dome and Cloud Forest at Gardens by the Bay.
Price: Approximately ₹500 to ₹700 per person.

Singapore Cable Car Ride:

Enjoy a cable car ride for panoramic views of the city.
Price: Approximately ₹1,000 to ₹1,500 per person.

KidZania Singapore:

Let your kids enjoy interactive learning and role-playing activities.
Price: Approximately ₹1,200 to ₹1,800 per child.

Sentosa Island Attractions:

Prices vary based on the attractions, such as Adventure Cove Waterpark, Butterfly Park & Insect Kingdom, and more.

River Safari:

Explore River Safari, home to various aquatic animals.
Price: Approximately ₹1,200 to ₹1,800 per adult, ₹800 to ₹1,200 per child.

Jurong Bird Park:

Discover vibrant bird species at Jurong Bird Park.
Price: Approximately ₹1,200 to ₹1,800 per adult, ₹800 to ₹1,200 per child.
Culinary Delights: Unique and Special Eats to Try in Singapore
Singapore is a culinary paradise with a diverse range of unique and delicious dishes to try. Here are some must-try foods that offer a taste of Singapore's rich food culture:
Hainanese Chicken Rice: A simple yet flavorful dish featuring tender poached chicken served with fragrant rice and accompanied by chili sauce and ginger paste.

Chilli Crab: A Singaporean seafood delight, consisting of crab cooked in a spicy, tangy tomato-based sauce. Savor it with crispy fried mantou buns.

Laksa: A spicy noodle soup with a creamy coconut milk base, served with either prawns or chicken and garnished with herbs and spices.

Char Kway Teow: Stir-fried flat rice noodles with eggs, prawns, Chinese sausages, and bean sprouts, all tossed in a savory soy sauce.

Satay: Skewers of marinated and grilled meat, such as chicken, beef, or lamb, served with a peanut dipping sauce.

Hokkien Mee: A dish of stir-fried noodles with prawns, squid, eggs, and a mix of light and dark soy sauce.

Roti Prata: A South Indian-inspired flatbread that's crispy on the outside and soft on the inside, often served with curry for dipping.

Kaya Toast and Soft-Boiled Eggs: A traditional breakfast consisting of toasted bread spread with kaya (coconut and egg jam), and served with soft-boiled eggs and a dash of soy sauce and pepper.

Ice Kacang: A refreshing dessert made with shaved ice topped with colorful syrup, sweetened red beans, jelly, and other toppings.

Durian: Often referred to as the "king of fruits," durian is a divisive fruit with a strong aroma and unique taste. It's a must-try for adventurous eaters.

Chendol: A sweet dessert made with shaved ice, green rice flour jelly, coconut milk, and palm sugar syrup.

Rojak: A savory fruit and vegetable salad mixed with a sweet and spicy sauce, often featuring ingredients like pineapple, cucumber, and fried dough fritters.
Explore local hawker centers, food courts, and specialty restaurants to sample these dishes and more. Each dish offers a unique flavor profile that reflects Singapore's multicultural heritage, making your culinary journey a memorable part of your Singapore experience.
What's Your Reaction?