5-Day Romantic Getaway Itinerary to Kasauli for Couples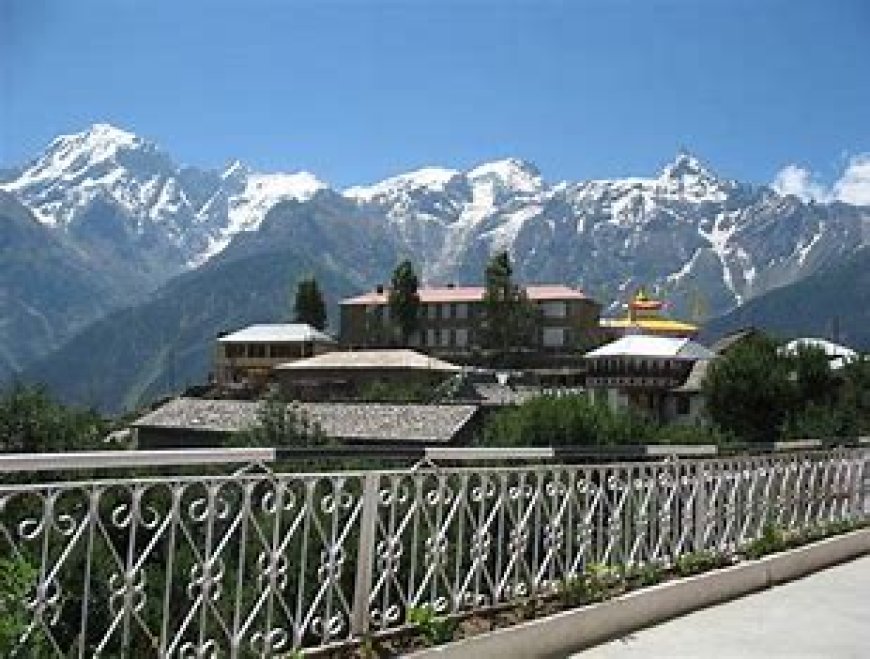 5-Day Romantic Getaway Itinerary to Kasauli for Couples
Nestled amidst the picturesque Himalayan mountains, Kasauli is a charming hill station that offers a serene and romantic getaway for adult couples seeking a retreat from the hustle and bustle of everyday life. Located in the state of Himachal Pradesh, India, Kasauli exudes a tranquil ambiance and boasts breathtaking panoramic views that create the perfect backdrop for a memorable vacation.
The town's colonial heritage is evident in its architecture, as it was established during the British colonial era. This lends a unique charm to the place, with winding roads, quaint cottages, and historic churches that provide an old-world charm, making it an ideal destination for couples looking to explore a blend of natural beauty and cultural history.
Kasauli's cool climate and lush green landscapes offer plenty of opportunities for couples to engage in leisurely walks, hand-in-hand strolls, and picnics amidst the refreshing pine-scented air. The famous Mall Road, a hub of local shops, cafes, and small eateries, provides an excellent place for couples to indulge in some retail therapy and savor local cuisine.
For those seeking adventure and exploration, nearby trails and trekking routes offer the chance to immerse yourselves in the natural wonders of the region. The Gilbert Trail and the Kasauli Brewery Trail are among the popular choices for couples looking to reconnect with nature.
As the sun sets over the mountains, the enchanting vistas transform into a romantic panorama of twinkling stars and city lights in the distance. Many hotels and resorts in Kasauli offer cozy accommodations with breathtaking views, allowing couples to enjoy intimate moments while being surrounded by nature's beauty.
Day 1: Arrival and Leisurely Exploration
Morning: Arrive at Chandigarh Airport or Kalka Railway Station and drive to Kasauli (around 2-3 hours). Check into your chosen accommodation.
Afternoon: After a refreshing lunch at the hotel, take a leisurely stroll down the famous Mall Road. Explore local shops, cafes, and enjoy the serene atmosphere.
Evening: Watch the sunset from the Sunset Point while enjoying a panoramic view of the surrounding hills and valleys.
Dinner: Return to your hotel or explore local eateries for a romantic dinner.
Day 2: Nature Walks and Heritage Sites
Morning: Start your day with a hearty breakfast at the hotel. Then, head to the Gilbert Nature Trail for a scenic morning walk amidst the lush greenery.
Afternoon: Visit the Christ Church, a colonial-era church known for its beautiful architecture and serene ambiance. Afterward, have lunch at a local restaurant.
Evening: Explore the Kasauli Brewery, one of the oldest distilleries in Asia. Learn about its history and enjoy some tasting.
Dinner: Back at the hotel or try a different local eatery for dinner.
Day 3: Trekking Adventure
Morning: Have an early breakfast and embark on a trekking adventure to the Monkey Point. This challenging yet rewarding hike offers stunning views of the surroundings.
Afternoon: Enjoy a packed lunch during the trek or have a picnic at Monkey Point. After returning to the hotel, relax and freshen up.
Evening: Visit the Kasauli Club for a leisurely evening. Enjoy a drink, play some indoor games, and unwind.
Dinner: Try a different local restaurant or opt for a special dinner at your hotel.
Day 4: Explore Nearby Attractions
Morning: Drive to the nearby Dagshai for a visit to the Dagshai Jail Museum and take in the historical significance of the area.
Afternoon: Have lunch in Dagshai or return to Kasauli for a relaxing afternoon at your hotel.
Evening: Take a short drive to Sunset Point for a romantic evening view and spend some quality time together.
Dinner: Enjoy a quiet dinner at a local restaurant or in the comfort of your hotel.
Day 5: Relaxation and Departure
Morning: After breakfast, indulge in a rejuvenating couple's spa session at your hotel or a local spa.
Afternoon: Check out from the hotel and have a farewell lunch at a cozy cafe or restaurant.
Evening: Depart for Chandigarh or Kalka, reflecting on the wonderful memories you've created in Kasauli.
Family-Friendly Adventures in Kasauli: Fun Activities for Couple
Nature Walks and Hikes: Enjoy leisurely walks along the Gilbert Nature Trail or trek to Monkey Point for stunning views.Price: These activities are usually free or may involve a nominal fee for entry to certain trekking areas.

Visit the Kasauli Brewery: Explore the history of the Kasauli Brewery, one of the oldest distilleries in Asia.Price: Guided tours with tastings might cost around INR 200-400 per person.

Shopping on Mall Road: Explore local shops for handicrafts, souvenirs, and clothing.Price: Prices vary based on what you purchase.

Visit Christ Church: Admire the beautiful architecture of the Christ Church.Price: Generally, there is no admission fee, but donations are often welcome.

Dagshai Jail Museum: Visit the Dagshai Jail Museum to learn about the history of the area.Price: Entry fees might range from INR 20-50 per person.

Spa and Wellness: Treat yourselves to a relaxing spa session as a couple.Price: Prices for spa treatments can vary widely, starting from around INR 1,500 per person and going up.

Sunset Point: Enjoy breathtaking sunset views from popular viewpoints.Price: Free of charge.

Photography: Capture the scenic beauty of Kasauli and its surroundings.Price: Free if you have your own camera or smartphone.

Romantic Dinners: Indulge in romantic dinners at local restaurants or your hotel.Price: Dinner costs can vary based on the restaurant and menu, but a meal for two could range from INR 800-1500.

Couples' Retreats: Some hotels offer special packages for couples, including romantic setups, private dinners, and more.Price: Prices can vary based on the package and the hotel's level of luxury.

Indoor Activities: Enjoy indoor activities at your hotel, such as board games, card games, or reading by the fireplace.Price: Usually free if offered by your accommodation.
Culinary Delights of Kasauli: Must-Try Dishes on Your Couple Trip
Bun Samosa and Chana Chaat: A local specialty, bun samosa is a twist on the traditional samosa, served in a bun. It's often accompanied by chana chaat, a spicy and tangy chickpea salad.

Sidu: Sidu is a traditional Himachali dish, essentially a steamed bread made from wheat flour and stuffed with ingredients like poppy seeds, nuts, and even meat.

Kasauli Trout: Being in the mountains, Kasauli offers fresh and delicious trout. Try it pan-fried or grilled for a taste of local river cuisine.

Himachali Dham: If you get a chance to attend a local festival or event, don't miss out on Himachali Dham. It's a traditional feast that features a variety of dishes like rajma, chana, rice, and curries, all served on a traditional plate made of leaves.

Apricot Delicacies: Kasauli is known for its apricots. You can find various products like apricot jams, chutneys, and even dried apricots. Don't forget to try dishes made with fresh apricots when they are in season.

Local Pickles and Sauces: Explore local markets for a variety of pickles and sauces made from regional ingredients. These can make for great souvenirs too.

Himachali Red Rice: Himachali red rice is a nutritious and unique type of rice with a distinct flavor. It's often served with different curries and vegetables.

Himachali Chana Madra: Chana madra is a flavorful dish made from chickpeas cooked in a yogurt-based gravy, seasoned with aromatic spices.

Tibetan Cuisine: Given the proximity to Tibetan culture, you'll find Tibetan dishes like momos (dumplings), thukpa (noodle soup), and more in local eateries.

Local Sweets: Indulge in local sweets like mittha (sweet rice), babru (a type of puri), and gur (jaggery) for a taste of regional desserts.

Local Herbal Teas: Explore herbal teas made from locally grown herbs like nettle, mint, and more. These are not only refreshing but also offer health benefits.

Local Apple Cider: If you're a fan of beverages, try the local apple cider or apple-based products. Himachal Pradesh is known for its apple orchards.
What's Your Reaction?