5-Day Romantic Getaway in Singapore for Couples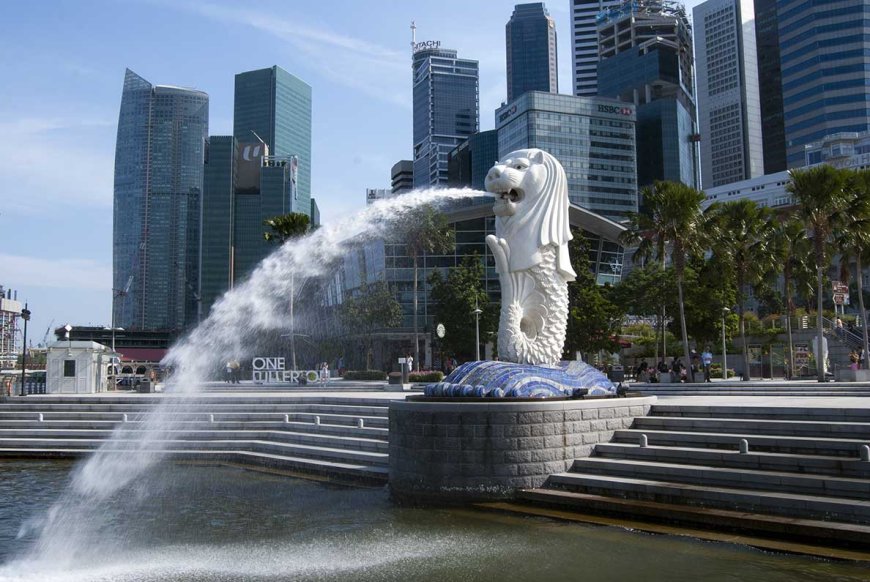 Welcome to Singapore, a dazzling city-state that seamlessly combines modernity with a rich cultural heritage, making it an ideal destination for couples seeking an unforgettable romantic getaway. From towering skyscrapers to lush gardens, vibrant markets to serene waterfronts, Singapore offers a diverse array of experiences that cater to every facet of a couple's journey.
As you step into this urban oasis, you'll find yourselves immersed in a world of possibilities. From exploring futuristic architecture to indulging in world-class cuisine, from relaxing on pristine beaches to strolling through lush gardens, Singapore promises to ignite the flames of romance.
Dive into the bustling heart of the city and witness iconic landmarks like the Marina Bay Sands, where you can marvel at the cityscape from its mesmerizing infinity pool. Wander hand in hand through the historic districts of Chinatown, Little India, and Kampong Glam, each offering a unique glimpse into Singapore's multicultural tapestry.
For those seeking relaxation, lush green spaces like the Gardens by the Bay and Sentosa Island provide respite and opportunities for intimate moments. Explore the vibrant culinary scene, where street food stalls and Michelin-starred restaurants coexist, ensuring an unforgettable gastronomic adventure for you and your partner.
Singapore doesn't just cater to urban exploration; it offers island escapes as well. Take a short ferry ride to Sentosa Island, where you can enjoy beaches, water sports, and even a dose of adrenaline at Universal Studios Singapore.
Whether you're watching the sunset from a river cruise, wandering through the Botanic Gardens, or simply enjoying the city's dazzling nightlife, Singapore presents a seamless blend of excitement and intimacy that promises to make your couple's trip an enchanting and unforgettable chapter in your love story.
Day 1: Arrival and Marina Bay Night Spectacle
Arrive at Changi Airport.
Check in to your chosen hotel.
Evening: Explore the iconic Marina Bay Sands and Gardens by the Bay. Enjoy the dazzling light and sound show at Supertree Grove.
Day 2: Urban Explorations
Morning: Visit the Singapore Botanic Gardens, a UNESCO World Heritage Site.
Afternoon: Explore Chinatown for cultural insights and lunch.
Evening: Stroll along the Singapore River and enjoy dinner at Clarke Quay.
Day 3: Sentosa Island Adventure
Morning: Take the cable car to Sentosa Island.
Enjoy attractions like Universal Studios Singapore, S.E.A. Aquarium, and Adventure Cove Waterpark.
Evening: Relax on Siloso Beach and watch the Wings of Time show.
Day 4: Nature and Culture
Morning: Visit Kampong Glam for a blend of heritage and hip cafes.
Afternoon: Explore Little India and have lunch.
Visit the National Museum of Singapore for a cultural experience.
Evening: Enjoy a romantic river cruise along the Singapore River.
Day 5: Shopping and Farewell
Morning: Shop along Orchard Road for souvenirs and luxury brands.
Afternoon: Visit the iconic Merlion Park and enjoy scenic views.
Evening: Have a farewell dinner at a riverside restaurant.
Exciting Couple Activities in Singapore: A Guide to Fun Things to Do with Price Options 
Certainly, here are some fun activities that couples can enjoy in Singapore, along with estimated prices in Indian Rupees (INR):
Marina Bay Sands SkyPark Observation Deck:

Enjoy stunning views of the city skyline from the iconic SkyPark.
Price: Approximately ₹1,700 per person.

Gardens by the Bay - Flower Dome and Cloud Forest:

Explore the captivating indoor gardens and the Cloud Forest's waterfall.
Price: Approximately ₹1,200 per person.

Sentosa Island Attractions (Combo Ticket):

Includes access to Universal Studios Singapore, S.E.A. Aquarium, and Adventure Cove Waterpark.
Price: Approximately ₹4,500 per person.

Singapore River Cruise:

Enjoy a romantic river cruise along the Singapore River.
Price: Approximately ₹800 per person.

Night Safari:

Experience the unique nocturnal wildlife at the Night Safari.
Price: Approximately ₹2,300 per person.

Dining at Clarke Quay:

Enjoy a romantic dinner at one of the riverside restaurants in Clarke Quay.
Price: Varies based on the chosen restaurant, approximately ₹2,000 to ₹3,000 for two.

Cable Car to Sentosa Island:

Take the cable car ride to Sentosa Island for scenic views.
Price: Approximately ₹1,000 per person.

Shopping on Orchard Road:

Explore the shopping district of Orchard Road for luxury brands and retail therapy.
Price: Varies based on shopping preferences.

Couples' Spa Experience:

Indulge in a relaxing couples' spa treatment for a rejuvenating experience.
Price: Varies based on the chosen spa and package.

Helicopter Ride:

Enjoy a breathtaking helicopter ride over Singapore's landmarks.
Price: Approximately ₹13,000 to ₹18,000 per person.
Culinary Delights: Unique and Special Eats to Try in Singapore  
Singapore is renowned for its vibrant and diverse culinary scene, offering a plethora of unique and special dishes that you should definitely try during your visit. Here are some delightful treats to savor:
Hainanese Chicken Rice: A classic Singaporean dish featuring tender poached chicken served with fragrant rice cooked in chicken broth. Don't forget the accompanying chili sauce and ginger paste.

Chilli Crab: Indulge in this iconic dish – succulent crab cooked in a spicy, tangy tomato-based sauce. It's best enjoyed with mantou (steamed buns) to soak up the delicious sauce.

Laksa: Dive into a bowl of laksa, a flavorful noodle soup with a rich coconut curry base, packed with shrimp, fish, and bean sprouts.

Char Kway Teow: Savor flat rice noodles stir-fried with eggs, prawns, Chinese sausage, and bean sprouts, resulting in a flavorful and slightly smoky dish.

Satay: Enjoy skewers of marinated and grilled meat (often chicken or beef) served with a peanut sauce, rice cakes, and a side of cucumber-onion salad.

Hokkien Mee: Delight in a stir-fried noodle dish with prawns, squid, eggs, and a savory seafood broth, resulting in a harmonious blend of flavors.

Kaya Toast and Kopi: Experience a traditional Singaporean breakfast with kaya toast (coconut and egg jam) paired with a cup of kopi (local coffee).

Chwee Kueh: Try these steamed rice cakes topped with preserved radish, a simple yet delightful snack or breakfast option.

Ice Kachang: Satisfy your sweet tooth with this colorful dessert made from shaved ice, sweet syrups, and various toppings like red beans, jelly, and corn.

Durian: If you're feeling adventurous, taste the controversial "king of fruits," durian, known for its unique aroma and rich flavor.

Bak Kut Teh: Relish a peppery pork rib soup served with fragrant jasmine rice or you tiao (fried dough sticks).

Rojak: Experience the medley of flavors in rojak, a local salad featuring a mix of fruits, vegetables, and dough fritters, topped with a sweet and spicy sauce.

Kueh: Explore a variety of traditional Peranakan desserts, colorful and flavorful bite-sized treats.

Salted Egg Yolk Dishes: Enjoy the creative use of salted egg yolk in dishes like salted egg yolk prawns, salted egg yolk chicken, and more.
Exploring Singapore's hawker centers, local eateries, and upscale restaurants will offer you the chance to indulge in these delectable dishes, each reflecting the rich cultural tapestry and culinary heritage of the city.
What's Your Reaction?