5-Day Las Vegas Adventure for Couples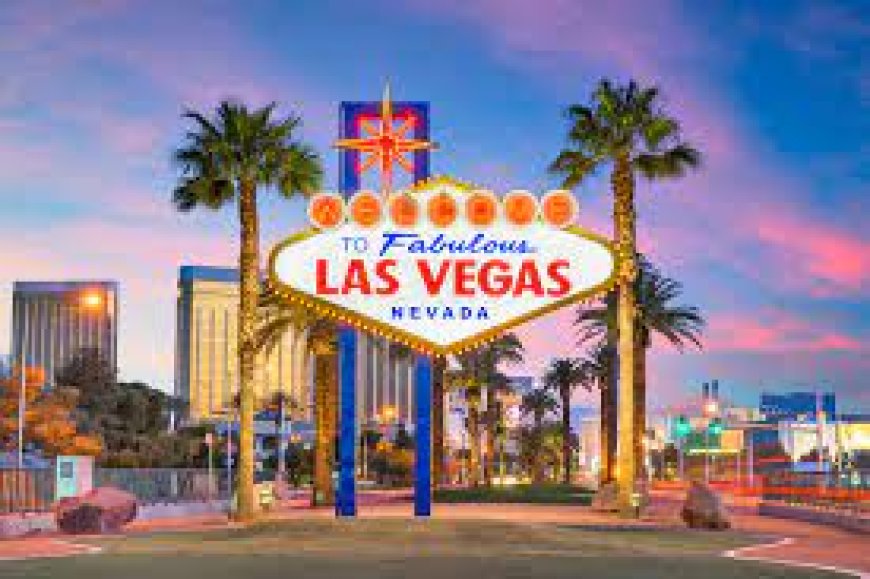 The entertainment capital of the world and a playground for couples seeking excitement, luxury, and unforgettable experiences. This vibrant city in the heart of the Nevada desert is renowned for its dazzling lights, world-class entertainment, and opulent resorts, making it an ideal destination for a couple's getaway. 
Las Vegas offers a captivating blend of glitz and glamour, where couples can immerse themselves in a world of entertainment, romance, and adventure. From luxurious resorts and gourmet dining to electrifying shows and endless nightlife, Las Vegas promises an enchanting escape filled with love, laughter, and unforgettable memories. 
Imagine strolling down the iconic Las Vegas Strip hand in hand, surrounded by towering skyscrapers adorned with neon lights and extravagant facades. As a couple, you'll have the opportunity to indulge in fine dining at celebrity-chef restaurants, try your luck at world-class casinos, and catch mesmerizing performances by renowned artists. 
Beyond the dazzling lights and bustling casinos, Las Vegas offers diverse experiences for couples to enjoy together. Take a romantic gondola ride at The Venetian, watch the mesmerizing Fountains of Bellagio dance to music, or escape to the natural wonders of the nearby Red Rock Canyon for a peaceful hike. 
Whether you're planning a romantic weekend, celebrating a special occasion, or simply seeking an unforgettable couple's retreat, Las Vegas caters to your desires with its endless array of options. From thrilling adventures to serene moments, this city allows you to write your own love story against the backdrop of excitement and glamour. 
Get ready to be swept away by the enchantment of Las Vegas, where every moment is an opportunity to bond, explore, and celebrate your love in a city that never sleeps. 
Day 1: Arrival and Introduction to the Strip 
Arrive at McCarran International Airport. 
Check in to your chosen hotel on the Las Vegas Strip. 
Spend the evening exploring the iconic Strip, admiring the dazzling lights, and enjoying the vibrant atmosphere.
Day 2: Thrills and Entertainment 
Morning: Visit a world-class spa for relaxation and rejuvenation. 
Afternoon: Experience an adrenaline rush with an indoor skydiving session. 
Evening: Attend a mesmerizing live show or concert on the Strip. 
Day 3: Grand Canyon Excursion 
Morning: Depart for a day trip to the Grand Canyon, either by helicopter or a scenic drive. 
Afternoon: Enjoy a picnic lunch while taking in the breathtaking views. 
Evening: Return to Las Vegas and dine at a romantic rooftop restaurant.
Day 4: Fine Dining and Nightlife 
Morning: Relax by the hotel pool or explore nearby attractions. 
Afternoon: Indulge in a fine dining experience at a celebrity-chef restaurant. 
Evening: Discover the vibrant nightlife with a visit to iconic nightclubs and lounges. 
Day 5: Nature Escape and Farewell 
Morning: Take a day trip to Red Rock Canyon for a peaceful nature hike. 
Afternoon: Explore the arts and culture scene downtown, including the Fremont Street Experience. 
Evening: Conclude your trip with a romantic gondola ride at The Venetian. 
Exciting Couple Activities in Las Vegas: A Guide to Fun Things to Do with Price Options 
Here are some fun activities for couples to enjoy in Las Vegas, along with estimated prices in Indian Rupees (INR): 
Visit Iconic Casinos on the Strip:

Explore famous casinos like Bellagio, Caesars Palace, and The Venetian.

Price: No entry fee, but gambling costs vary based on personal preference.

 
Attend a Live Show or Concert:

Experience world-class entertainment with shows like Cirque du Soleil, magic acts, and music concerts.

Price:

Approximately ₹3,000

to ₹10,000 per person, depending on the show.

 
Indoor Skydiving at Vegas Indoor Skydiving:

Enjoy the thrill of simulated skydiving in a vertical wind tunnel.

Price:

Approximately ₹2,000

to ₹3,000 per person.

 
Day Trip to the Grand Canyon:

Experience the Grand Canyon's beauty by helicopter or bus tour.

Price: Helicopter tours can range from ₹15,000 to ₹30,000 per person, while bus tours are around ₹7,000 to ₹12,000 per person.

 
Fine Dining at Celebrity-Chef Restaurants:

Indulge in exquisite meals at celebrity-chef restaurants on the Strip.

Price:

Approximately ₹5,000

to ₹15,000 per person, depending on the restaurant and menu.

 
Romantic Gondola Ride at The Venetian:

Glide along indoor canals in an authentic Venetian gondola.

Price: Around ₹2,000 to ₹4,000 per couple.

 
Red Rock Canyon Nature Hike:

Enjoy the natural beauty of Red Rock Canyon through a guided hike.

Price: Guided hikes are

approximately ₹2,000

to ₹4,000 per person.

 
Nightclub and Lounge Experience:

Experience the city's vibrant nightlife at iconic nightclubs and lounges.

Price: Entry fees can vary, ranging from ₹2,000 to ₹5,000 per person.

 
Culinary Delights: Unique and Special Eats to Try in Las Vegas
Las Vegas offers a diverse culinary scene with a wide range of unique and special dishes to try. Here are some delectable treats you should definitely sample during your visit: 
Buffet Experiences:

Las Vegas is famous for its extravagant buffet spreads, offering a variety of cuisines under one roof. Try the Bacchanal Buffet at Caesars Palace or the Wynn Buffet for a diverse culinary journey.

 
Gourmet Burgers:

Indulge in gourmet burgers with creative toppings and unique flavors at places like Gordon Ramsay Burger or Shake Shack.

 
Prime Rib and Steak:

Savor perfectly cooked prime rib and succulent steaks at renowned steakhouses such as The Strip House and CUT by Wolfgang Puck.

 
Seafood Delights:

Enjoy fresh seafood dishes like crab legs, oysters, and lobster at seafood buffets and upscale restaurants like Joe's Seafood, Prime Steak & Stone Crab.

 
Ethnic Fusion Cuisine:

Explore innovative fusion cuisine that combines various global flavors, such as Mexican-Asian fusion at China Poblano or Japanese-Peruvian fusion at Nobu.

 
Nevada Specialties:

Try local specialties like the Nevada Basque dish "Picon Punch" at local Basque restaurants.

 
Dessert Extravaganza:

Satisfy your sweet tooth with extravagant desserts like the famous "Frozen Hot Chocolate" at Serendipity 3 or oversized sundaes at Black Tap.

 
World's Largest Chocolate Fountain:

Visit the Bellagio's Jean Philippe Patisserie to marvel at the world's largest chocolate fountain and indulge in a variety of sweet treats.

 
High-End Buffets:

Dine at upscale buffets like The Buffet at Wynn, known for its elegant presentation and gourmet offerings.

 
Food Trucks and Street Eats:

Explore food trucks offering creative and diverse cuisine, from tacos to gourmet cupcakes, often found along the Strip.

 
Culinary Tours:

Join culinary tours that take you through a variety of dining establishments, giving you a taste of the city's culinary diversity.

 
Las Vegas is a haven for food enthusiasts, offering a plethora of culinary experiences that cater to every palate. Be sure to explore various dining options, from world-renowned celebrity-chef restaurants to hidden gems, and indulge in the city's delightful gastronomic offerings. 
What's Your Reaction?